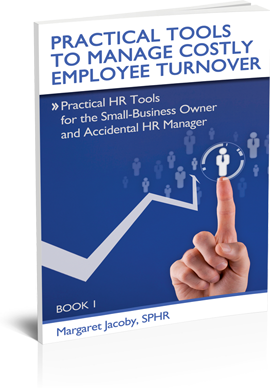 Practical HR Tools
Learn how to build a highly engaged, motivated
team for your small business
If you're a small-business owner or entrepreneur who is saying, "How do I control the turnover in my business?" this ebook is for you. Practical Tools to Manage Costly Employee Turnover, by certified Human Resources consultant Margaret Jacoby, provides invaluable tools to reduce costly turnover and retain the best and brightest for your organization.
Compiled as the first book in Jacoby's new series, Practical HR Tools for the Small Business Owner and Accidental HR Manager, this ebook delivers easy access to critical techniques and processes to help manage HR issues like:
Recruitment and hiring
Employee performance
Employee turnover
Motivating employees
Priced at only $9.95, this ebook also comes packaged with 8 extra forms FREE, including a Turnover Calculator, Checklist, and Spreadsheet. Filled with explanations and advice, Practical Tools to Manage Costly Employee Turnover serves as a solid foundation of information to manage your organization's HR issues... without the steep learning curve.
Add to Cart
Sale! $9.95

These ready-to-use forms will help
you save time dealing with
employee-related
HR issues.
Click Here

Download and start learning what you need to know to grow a winning team.
Click Here